Participatory Creativity – Friday, Feb 28
Free presentation by Harvard researcher Edward Clapp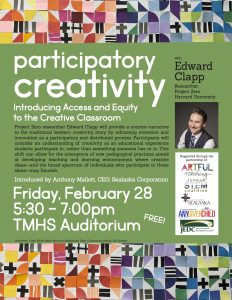 Friday, February 28
5:30 PM – 7:00 PM 
Thunder Mountain High School Auditorium
No RSVP / tickets required.
Project Zero researcher Edward Clapp will provide a counter-narrative to the traditional western creativity story by reframing invention and innovation as a participatory and distributed process. Participants will consider an understanding of creativity as an educational experience students participate in, rather than something someone has or is. This shift can allow for the emergence of new pedagogical practices aimed at developing teaching and learning environments where creative ideas—and the broad spectrum of individuals who participate in those ideas—may flourish.
---
Computational Thinking!

Click here for updates on topics and times for future workshops, for links to articles related to computational thinking, and for links to presenters' slide shows, when available.
---
Visit the STEM Events for Students page for summer opportunities for all ages
"Children who engage in scientific activities from an early age develop positive attitudes toward science, which also correlate with later science achievement, and they are more likely to pursue STEM expertise and careers later on."
The Juneau STEM Coalition is a volunteer community group with the mission is to support Juneau to develop lifelong Science, Technology, Engineering, and Math (STEM) skills.
We are a diverse group of people under a loose "STEM" umbrella.  We seek to effect incremental and transformational change within the Juneau School District.  We want to support our students to be innovative, collaborative, empathetic, resourceful, and persistent now and as adults. We want them to struggle – in the best sense of the word – with challenging and intriguing projects that integrate in real and meaningful ways across the traditional academic disciplines and throughout the Juneau community.  We want them to speak up for themselves and for others.
STEM education is associated with many beneficial qualities, including inquisitiveness, critical thinking, creativity, problem solving, grit, collaboration, and innovation.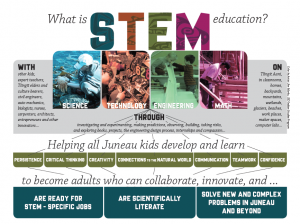 The Juneau STEM Coalition is working with teachers and STEM experts to bring real-life connections into Juneau classrooms, via S.E.E. (SouthEast Exchange.)
SIGN UP

Are you a community member interested in                  Are you a teacher who'd like
        sharing your STEM expertise with                       STEM experts to contact you?
             Juneau teachers and students?                                        Sign up here.
      Please take a few minutes to sign up.
USE OUR LISTS

Connect with a community member                        Connect with a teacher